Getting the Right Content Out to Customers and Prospects Regularly Is Key to Increased Leads
Inbound marketing was the go to buzz-word for strategic marketing in 2015. No matter where I would go on the web or at a conference, everyone was talking about it. Well, I am here to set the record straight. Inbound marketing is dead. Content is king. Long live the king.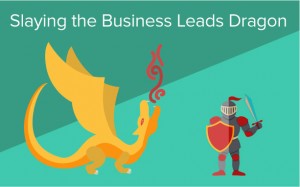 So why do I say inbound marketing is dead? From my work in the trenches, I have seen a lot of marketing agencies upsell their client base on the premise of slaying the dragon with leads by using this system. The main goal of inbound marketing was to get customers and leads to come visit your website or download your white paper, then turn that into sales. The problem is, this is what marketers should have been doing to begin with.
I have always been a proponent of giving your prospects and clients the knowledge to do some of the marketing on their own. What I have found is that nine times out of ten they realize there is no time to do it on their own. By giving them the information you then build an honest relationship with your clients.
Now, back to the content. If you release good, insightful articles, like the ones we talked about in the Basics of Blogging article, you can create a great source of information for your visitors. Another thing to try is to expand on that topic and create your own ebook or white paper to add to your site. Before they download your masterpiece, they can be required to enter their contact information which gives you a new lead and adds a potential client to your email distribution list. Otherwise, you should be able to get visitors to your site by doing the following with your articles:
Send them out to local press contacts
Submit them as articles to industry blogs and trade association websites
Share them via social media
Try pay-per-click solutions on google.com, facebook.com or linkedin.com to send them to your article or ebook
Release the article in a Press Release style on a paid PR site (prlog.com, prweb.com, sbwire.com)
Send a messenger on horseback from your kingdom to the next kingdom (Who doesn't love a man in a suit of armor delivering a decree on horseback?)
While these are only a few ideas to best the "inbound marketing" monster, try to be a little creative on your own as well. You never know who will be next in line when the king falls…
Kiar Media is a full service interactive advertising agency specializing in landing page optimization, mobile apps, website design, search engine optimization (SEO) and social media planning. For more information on how Kiar Media can help your company grow its online presence, visit kiarmedia.com or call 920-403-0576.
About the author: Kiar Olson has been at the cutting edge of advertising, media, websites and interactive strategy since 1996. His love of 80's hair bands and all things from that era make him well versed in being made fun of by his wife and two teenage children.