Search Engine Optimization Is Not Just Random Magic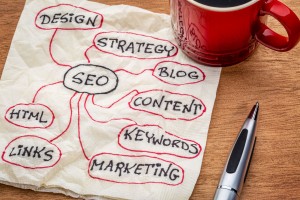 If you are looking at your website and trying to conjure good spirits and find out how to make it rank higher in certain keyword searches, you are not alone. v There are a lot of studies that are constantly being done to help target all of our ad dollars into tactics that can get us in the right direction. For instance, SearchEngineLand.com put together a survey in conjunction with ChamberofCommerce.com to find out more about internet marketing and what businesses thought about the effectiveness of it. You can view the results here, but I want to talk to you more about what you can do to help generate more buzz for your company and ways to get it to play nice with the voodoo of the internet.
Planning for the apocalypse
I know this sounds like a cliche, but without a plan, throwing marketing dollars at SEO and pay-per-click campaigns is as about as effective as wearing pants made out of brains to a zombie jamboree. The first thing you should do is find out what metrics are the most important to you. Is it additional phone calls to your sales staff, is it more clicks on your website, or is it more people filling out your "request more information" form on your website? You have to find out what the main funnel for you is and start there.
Once you have your metrics figured out, you then need to create a way to track what you are looking for. With anything website related, that can be as simple as a few free tools on the internet. The most common is the use of a website analytics tool like the Google Analytics. It offers a free way to track a users entrance, visit duration, time on site, behavior, demographics and more. You can set up goals, track conversions and just about any other thing you could possible imagine. I know most people have already put this into use, but for those newbies, I say this as a "wake up and smell the coffee" type thing.
After your analytics are in place, it is time for your editorial calendar. This is like making your voodoo doll and getting it ready to pin. The first thing to consider when putting together your editorial calendar is to look and find out what things you already do seasonally within your company. Use this and holidays to your advantage. Now place keywords you want to track that make sense in those months you have promotions in already. If you don't follow a seasonal marketing or promotions calendar, just start by placing a keyword or two in every month.
When you have all of your months filled with your keywords, go back and add some creative topics to go along with those keywords to prevent all of your content from becoming the walking dead. The same thing every month with different keywords turns into zombie fodder really fast.
Execution
The key to any good SEO campaign is content. It is time to grab your voodoo doll and put in a few pins. We have talked about content before so I am not going to spend a lot of time on that, but blogging is a great way to create content and deliver it on a monthly basis. Once you have written your educational and mildly entertaining article, post it to your websites' blog. There are a few tricks I use to help gain some link building and distribution sources that can give search engines a little push in your direction.
Create a fun headline or secondary header that contains your keyword.
Link the keywords in your post to other areas of your website that reference that content.
Always include a link that goes outside of your domain for more reference (local event, industry news, etc).
Interesting image – probably one of the most important things is a good visual.
Tag your image with your keyword.
Share virally on social media and have them all link back to your post. A few to try are, company Facebook page, company LinkedIn feed, company Twitter feed, and then share that post or tweet with your personal friends and followers.
Send the post out as an eNewsletter using a service like Constant Contact or Mail Chimp.
These are only a few suggestions, but I have found them to be pretty effective as a good base. There are plenty more things you can do to help share the content, but don't forget the most powerful one of all. Your internal audience (employees) can be the biggest distribution channel there is for sharing content. Having employee buy-in is a great way to show how your corporate culture works together to do great things.
Once the dust has settled and your content has transcended from zombie into a living being (ok, it is just a post in your blog, but you get my drift), go back to your analytics and see what sources have been bringing in the most leads to your website. See if your contact page is getting a lot of hits, use the heatmaps feature to see if people are mousing or clicking on your phone number or contact email, and see how many times your post has been read. It all adds up, but it does not happen overnight. I have found most things take about 30 days to really get indexed and results shown in analytics.
So enjoy your time making search engine optimization work for you, because it is not going away anytime soon. No matter what the pundits say about how SEO is dead, it keeps coming back to life… so get your pins ready, it is going to be a bumpy ride.
Kiar Media is a full service interactive marketing agency located in De Pere, WI, specializing in getting results and ROI from online and mobile strategies. For more information on blogging or SEO in Green Bay and all over the country, contact Kiar Media at kiarmedia.com, on Twitter @kiarmedia or by phone at 920-403-0576.